2018 BMW X2 Fort Lauderdale FL
Explore The All-New 2018 BMW X2 At Vista BMW Pompano Beach
BMW X2
Compare The 2018 BMW X2 xDrive28i To The 2018 BMW X2 sDrive28i
---
Specifications
ENGINE
Liters/Type
---
Horsepower (hp @ rpm)
---
Torque (lb-ft @ rpm)
---
PERFORMANCE
Acceleration 0 – 60 mph Automatic (sec)
---
Top Speed (mph)
---
FUEL CONSUMPTION
Fuel Tank Capacity (gallons)
---
WHEELS & TIRES
Tire Type
---
Wheel Dimensions (in)
---
Tire Dimensions (mm)
---
BMW X2 xDrive28i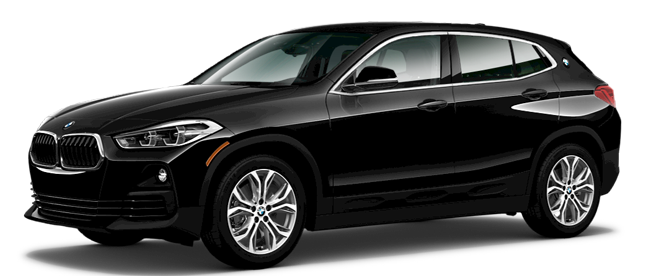 ENGINE Liters/Type 2.0-liter TwinPower Turbo inline 4-cylinder
---
ENGINE Horsepower (hp @ rpm) 228 @ 5000 – 6000
---
ENGINE Torque (lb-ft @ rpm) 258 @ 1450 – 4500
---
TRANSMISSION Type 8-speed STEPTRONIC automatic transmission with Sport and Manual shift modes
---
DRIVETRAIN Type
xDrive all-wheel-drive system
---
PERFORMANCE Acceleration 0 – 60 mph AUTOMATIC (sec)
6.3
---
PERFORMANCE Top Speed (mph) 131 [143]
---
FUEL CONSUMPTION Fuel Tank Capacity (gallons)
16.1
---
WHEELS & TIRES TIRE TYPE
Run-flat all-season
---
WHEELS & TIRES Wheel Dimensions (in) 18 x 7.5 front and rear
---
WHEELS & TIRES Tire Dimensions (mm) 225/50 front and rear
---
BMW X2 sDrive28i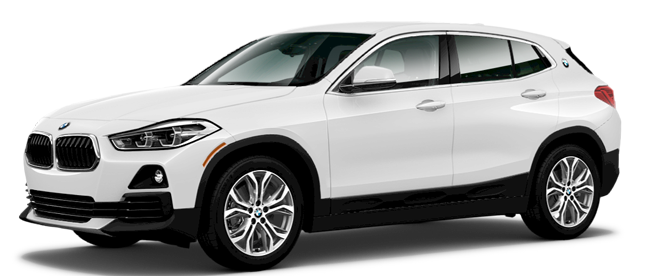 ENGINE Liters/Type 2.0-liter TwinPower Turbo inline 4-cylinder
---
ENGINE Horsepower (hp @ rpm) 228 @ 5000 – 6000
---
ENGINE Torque (lb-ft @ rpm) 258 @ 1450 – 4500
---
TRANSMISSION TYPE 8-speed STEPTRONIC automatic transmission with Sport and Manual shift modes
---
DRIVETRAIN Type
sDrive rear-wheel-drive
---
PERFORMANCE Acceleration 0 – 60 mph AUTOMATIC (sec)
6.6
---
PERFORMANCE Top Speed (mph) 131 [143]
---
FFUEL CONSUMPTION Fuel Tank Capacity (gallons)
16.1
---
WHEELS & TIRES TIRE TYPE
Run-flat all-season
---
WHEELS & TIRES Wheel Dimensions (in) 18 x 7.5 front and rear
---
WHEELS & TIRES Tire Dimensions (mm) 225/50 front and rear
---
A New Form Of Luxury
Step into Vista BMW Pompano Beach for a look at the all-new 2018 BMW X2, which is the world's first Sports Activity Coupe® (SAC). If you're looking for superior performance and groundbreaking design, you're in the right place.
You can get your unique Sports Activity Coupe® in 1 of 2 models: the X2 sDrive 28i or the X2 xDrive28i, which is equipped with an all-wheel drive system. You've never seen a vehicle like this before, and once you step in for a test drive, you'll know that you've never driven a vehicle like this before.
The new BMW X2 offers a host of advanced features that double as unique design choices like LED headlights with cornering lights. Also, the 2018 BMW X2 is equipped with distinctive LED rear lights; no one will ever confuse your X2 with another vehicle.
Try out the 2018 BMW X2 for yourself by test-driving one at Vista BMW Pompano Beach near Fort Lauderdale and Boca Raton.
The Best Of Both Worlds
Since it's the first Sports Activity Coupe® of its kind, you're probably wondering what to expect from the new BMW X2's performance capabilities. When you step into a 2018 BMW X2, expect to go flying, with the capability to go from 0-60 MPH in just 6.3 seconds with all-wheel drive equipped.
Although it has the size of an SUV, the new BMW X2 has the performance of a coupe. This is evident with its 228-horsepower engine, which is superior to the competitors engines.
Test-drive the 2018 BMW X2 at Vista BMW Pompano Beach near Delray Beach to try the Sports Activity Coupe® for yourself today.
It's Dripping With Personality
With sleek design choices on the outside and inside, the new BMW X2 helps you establish your personality everywhere you go. Its cutting-edge cabin is driver oriented and full of premium available features like inductive wireless charging for compatible devices and a Wi-Fi® hotspot. The intuitive iDrive 6.0 infotainment interface makes navigating the 2018 BMW X2's many features simple and natural.
On the exterior, choose how you want to be perceived with the new BMW X2's numerous exterior paint options. With exterior paint options ranging from Mineral Grey Metallic to Mediterranean Blue Metallic, your 2018 BMW X2 will always look fresh and unique.
Stop by Vista BMW Pompano Beach near Fort Lauderdale to customize your new BMW X2 and get the car that reflects you perfectly.
New Model But Same High Safety Standard
Even though it's a brand-new model, the BMW name is still a part of the 2018 BMW X2, and that means that you can put full confidence in the BMW X2's ability to keep you and your passengers safe. Equip available features like Forward Collision Warning and Active Cruise Control to make sure that you're ready for all types of situations.
If you're a driver in Fort Lauderdale, Boca Raton, or Delray Beach, check out Vista BMW Pompano Beach to be one of the first drivers to take a look at the 2018 BMW X2. It'll only be the first of its kind once, so don't miss this opportunity. Test-drive one today.